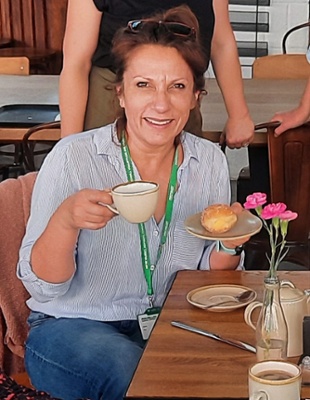 Anna Tee
(Interim) Macmillan Wales Strategic Partnership Manager
Macmillan Cancer Support
About Me
(Interim) Macmillan Wales Strategic Partnership Manager
Anna is the Strategic Partnership Manager for Macmillan in Wales, where she has worked for nearly 5 years following a broad career in the NHS that focused on supporting a better patient experience.
In her role in Macmillan, Anna and the team work collaboratively with NHS and other partners across Wales to not settle for anything other than the best possible information and support for people with cancer. Anna is passionate about making a difference and improving the services in a way that holds people at the centre of their care, working to enable services that focus on what really matters to patients.
Anna lives in Carmarthen with her family and a fluffy dog called Mabel, and tries to make the most of the opportunities life throws and would love to chat through her experiences of stained glass workshops, developing a community led co-housing model and re-learning the violin after 35 years, as well as of course any opportunities to improve the cancer patient experience.