PROMs Annual Research Conference 2022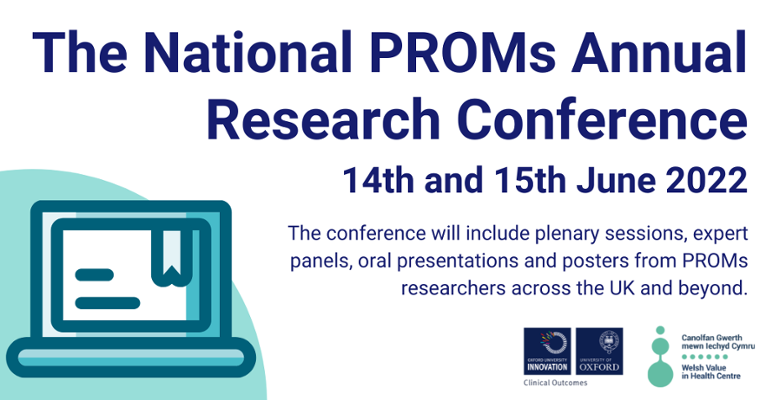 Delegate registration is now open!
Sign up for free today and join us for a mixture of plenary sessions, expert panels, oral presentations and posters, delivered by a host of pre-eminent speakers from across the UK and internationally, on Tuesday 14th and Wednesday 15th June 2022.
Delegates are also invited to a bonus workshop on Tuesday 14th and the ISOQOL UK and Ireland SIG meeting on Wednesday 15th.
Follow this link to register now: https://www.eventbrite.co.uk/e/the-national-proms-annual-research-conference-2022-registration-274190600467?keep_tld=1
Come and join us for a very diverse programme of content across the two days and learn from experts with a range of perspectives and methodologies around the development, testing and use of PROMs in different contexts and settings.
This will be the 6th National PROMs Research Conference and due to ongoing uncertainty caused by Covid-19, the event will remain virtual, as it was in 2021.We are delighted to announce that the Welsh Value in Health Centre will be hosting the National PROMs Annual Research Conference on the 14th and 15th June 2022.
The conference will include plenary sessions, expert panels, oral presentations and posters from PROMs researchers across the UK and beyond. An established event, the conference will bring together leading experts, career researchers, early career scientists and interested parties from other areas, to engage with the latest developments in the field of PROMs research and implementation.
If you have any questions please email vih@wales.nhs.uk
| Day 1 - Tuesday 14th June | Day 2 - Wednesday 15th June |
| --- | --- |
| 12:00 | 10:00 |
| --- | --- |
| Welcome and opening remarks | ISOQOL UK PROMs Specialist Interest Group (UK SIG) |
| 12:15 | 12:00 |
| PROMs - Putting the research into practice | Welcome and opening remarks |
| 12:45 | 12:10 |
| How to select an outcome measurement instrument: the COSMIN methodology | It's the little things that matter |
| 13:45 | 12:45 |
| Break | Break |
| 13:50 | 13:00 |
| Embedding PROMs in direct care - the system view | Oral abstract presentations |
| 14:30 | 14:00 |
| Break | Break |
| 14:35 | 14:05 |
| Oral abstract presentations | Embedding PROMs in direct care - the clinical view |
| 15:30 | 15:00 |
| Co-production during COVID: what we can learn for the all Wales COVID recovery app | Personalised care - how PROMs can help unlock person centred care |
| 16:00 | 15:45 |
| Key highlights and closing remarks | Closing remarks and prize giving |