How do I get involved?
The agenda for a Value-Based Healthcare approach across Wales is growing and we would like to hear from you.
The vision:

"We seek to improve the health outcomes that matter most to the people in Wales. We will support this by asking people about their outcomes and creating a data-driven system that seeks to provide timely information to citizens, clinical teams, and organisations to inform the decision-making that leads to those outcomes in a way that is financially sustainable"
If you are an interested clinician, service manager, or any health care professional working within NHS Wales and want to know more about how you can embrace a Value model, we would love to hear from you so we can support you.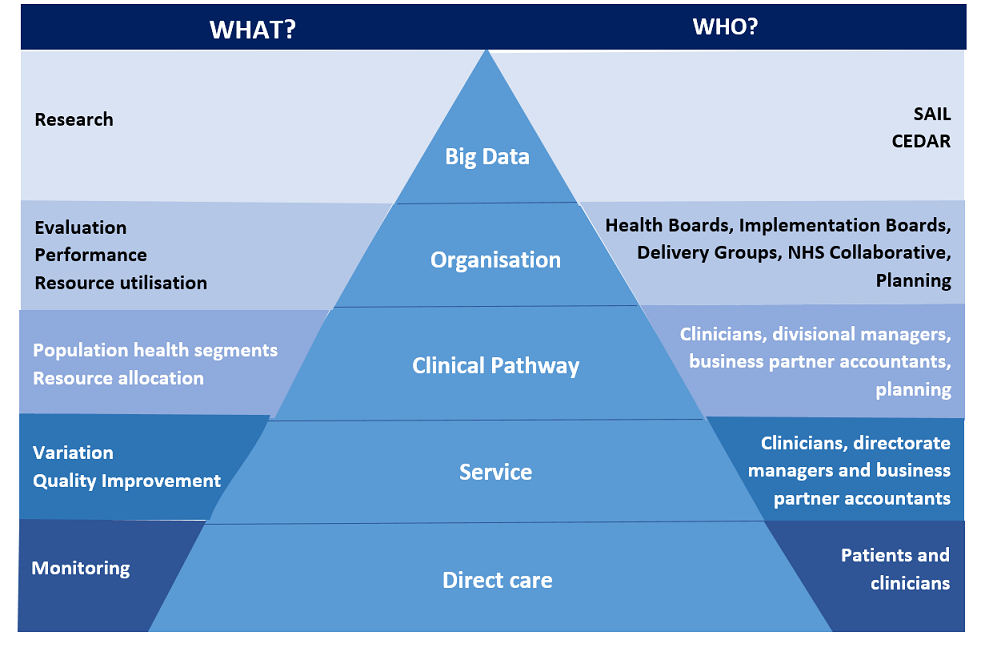 One of the main uses of PROMs data is for quality improvement.
This work involves combining PROMs with clinical outcomes (such as audit data) and costing data and bringing this to life in dashboards for use across Wales. These dashboards will be made available to health boards and clinical teams to support direct care, quality improvement, and service planning. The dashboards and the subsequent insights and analysis resulting from this combined data will assist with:
Identifying low-value practices and assist with reallocating resource into high-value interventions
Identifying areas of good practise and reducing unwarranted variation in care
Assessing population needs and understanding whether those needs are met
Further helping to support patient and clinician decisions using outcome data of local patients with similar conditions, comorbidities, and lifestyle.
Allowing clinical teams to be stewards of resources by influencing high-value care for the populations for which they are caring