What is Value-Based Health Care?
Value in healthcare is realized when we achieve the best possible healthcare outcomes for our population with the resources that we have. These outcomes should be comparable with the best in the world, and Prudent Healthcare has already provided a strong foundation for healthcare improvement in Wales.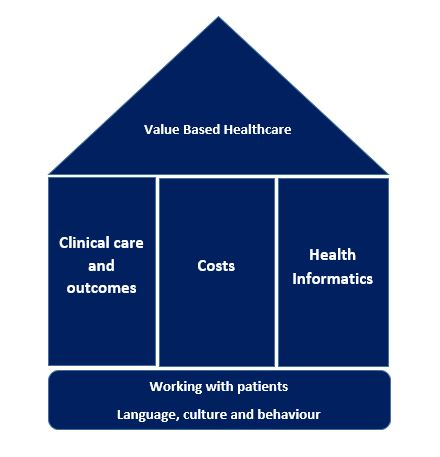 Changes in health are important milestones in the lives of patients and we should use Patient Reported Outcome Measures (PROMs) to measure them. This can help us assess and meet patient needs, and to understand their experience of care, and to improve services. We should also be measuring the costs of health care at a system level and making these visible to clinical teams, in doing so enabling them to be the best possible stewards of limited NHS resources by influencing high-value care for the populations for which they are caring.
In Wales we are supporting the implementation and development of outcomes and costing measurement/analysis, using a collaborative approach to sharing and using the data to support the improvement of healthcare services and value for patients.
Value-Based Health Care (VBHC) encourages us to focus on meeting the goals of our patients and to help manage expectations throughout their care or treatment. We seek to improve how patients are involved in decision making using the best evidence to hand and also avoid any unnecessary variation in care and become more creative about knowing where the resources we have are best spent for improved patient outcomes.
"A Healthier Wales, the Welsh Government's Plan for Health and Social Care sets out the need for services to transform so they can meet the challenges of the future and help deliver the best results. Changing the way we do things is important because our population is changing with more people developing complex health needs and this, in turn, places services under pressure. The problem is not the fact that people are growing older and living longer. Rather, it is because health and social care services have been slow to adapt and we are now at a point where we must do things differently, or face a very uncertain future.

We already spend a huge amount on health and social care in Wales and employ thousands of staff. This shows we are prepared, as a country, to invest in people's health and well-being. Unfortunately, however much we spend; it never seems to be enough. Based on our experience so far, the answer is not likely to be to keep doing things the same way and make health and care services even bigger. Instead, we must find new, flexible, and smarter ways of providing services that make the very best of the existing resources and deliver the outcomes that matter to people.

Outcomes are the results people want to see from their treatment, taking into account the circumstances of their own life. By talking to people about what they want, and what treatment might or might not be able to achieve, health care can become much more personalized and people will feel more involved in decisions about their own care. When this happens, people often choose more conservative treatment options because they feel that is right for them.

At the same time, we must also look at how we currently deliver services and whether everything we do contributes to the best outcomes for people. Surprisingly, not everything does. We, therefore, need to do less of the things that don't help and reinvest that money into doing more of the things that do. This is what we mean by 'Value-Based Health Care' ".

Professor Chris Jones Deputy Chief Medical Officer