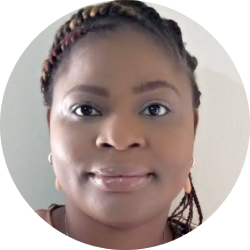 Motunrayo Shodimu
About Me
Lead Specialist-Information, Information Service Delivery-NWIS
Motunrayo joined NWIS in 2019 as a Lead Specialist with the Value-Based Health Care team in the Information Services Directorate.
Motunrayo works with stakeholders across NHS Wales to measure and model health outcomes and other pressing health issues. While working alongside well-experienced professionals, she leverages her analytics skills for positive change in the health systems and continues to be impactful in other cross-functional collaborative roles such as developing the team's website. She loves been curious and welcome opportunities for problem-solving
Before this, she was a Senior Analyst on the National Quality Improvement Initiative in Nigeria. The project was aimed at reducing maternal and neonatal mortality as well as increasing patients' and staff satisfaction. Her professional experience in healthcare encompasses domains like a lead researcher in health surveys, supply chain management, quality improvement, leadership, and stakeholder engagement, data analysis and visualisation, capacity building, and project management.
She graduated with an MSc in Medical Statistics in 2015 from the University of Ibadan, Nigeria, and an MSc Data Science & Analytics in 2019 at Cardiff University, UK. Her interest involves the use of statistics and varying analysis tools to gain insights from data, sharing knowledge, and learning new skills. She enjoys hanging out with friends and family, making others happy, singing, dancing, acting drama, cooking, or acquiring new skills.