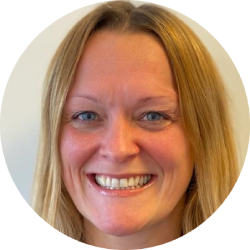 Claire Green
About Me
Claire is a senior finance leader within the NHS Wales Finance Delivery Unit, an independent organisation within NHS Wales established to drive financial improvement and delivery. Part of that brief includes supporting organisations to identify and deliver efficiency and productivity improvements, reducing waste, harm, and unwarranted variation and ultimately transforming services through moving from an efficiency-focused approach in isolation to one of effectiveness, delivering high-quality services based on outcomes that matter to patients.
Claire has significant experience in the financial management of acute services, secondary care, and productivity & efficiency within NHS Wales, and is the lead for the Unit's National Efficiency & Variation Framework. The Framework is the core source of intelligence to optimise resource utilisation within NHS Wales, and Claire is the lead for the framework's development and implementation.
One of the Unit's priorities is supporting Welsh Government and the National Clinical Lead in the development of Value-Based Health Care across Wales, in particular developing national intelligence and insight and providing capacity and capability to support Local Health Boards. Claire plays a lead role in this area supporting local Health Board Programme development alongside implementation and expansion of the national plan.