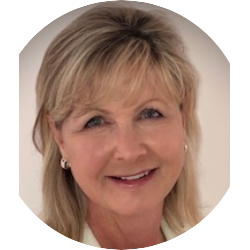 Sue Goodfellow
About Me
Dr. Sue Goodfellow is the Clinical Improvement Lead for the Value-Based Healthcare Team.
This role includes advising on the design & evaluation of Value-Based Healthcare projects and working with VBHC team members and colleagues across Wales to demonstrate achievement of the triple aim: providing better care for patients, and better health for populations, at a lower cost.
She has been a practising GP in Cardiff & Vale since 1993, and a GP trainer since 2004, and continues to undertake regular clinical work.
Sue also has a role is a Quality Improvement Tutor for Health Education Improvement Wales (HEIW), working mainly to deliver QI training to GP Registrars and GP Trainers.
Sue led her GP Practice to win an NHS Wales award for Quality Improvement in 2018, and also to win "Quality Improvement Initiative of the Year 2020" in the UK Health Service Journal (HSJ) Patient Safety Awards.
She has experience in patient co-production and co-design, especially in the field of service delivery. Her track record also includes mentoring many colleagues in both clinical & non-clinical roles undertaking improvement projects, utilising QI methodology.